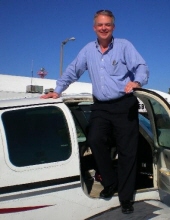 Obituary for Charles Degan
Charles Degan, 60, died November 14, 2018.

Charles Roy "Chuck" Degan was the first-born child of Col. Roy E. Degan Jr. , in Shreveport, LA. He was graduated from M.U.S., UT, and Memphis State, the latter with a BBA in Aeronautics: Airline Management. From a young age aviation was Chuck's love, following in the footsteps of his father. Working his way through college as a ramp agent, his days off were dedicated to ferrying aircraft across the country, building and logging his hours in preparation for an airline job. Far ahead of his age, Chuck ultimately became an airline captain for Piedmont Airlines / US Air, commanding Boeing 737, 757, and 767 aircraft. His knowledge of the aircraft became so thorough that he began writing aircraft training manuals. He was also the official graphic artist for the airline, designing the aircraft paint schemes and producing Christmas cards, coffee mugs, and souvenirs.

More recently, Chuck had become a serial network marketer, focused mainly on health care issues. However, in 2017, he was drawn back to aviation as a flight training and simulator instructor, but ongoing medical issues prevented his tenure.

In 2012, Chuck's instincts led him to be the first voice to call for a forensic audit of the Wolf River Airport corporation - still ongoing today – which exposed bid-rigging, stock fraud, unlawful blasting, contract tampering, and a plethora of allegations including embezzlement, extortion, and tax fraud.

He leaves his sister, Nancy Elizabeth Degan, of Santa Clarita, CA and brother Roy E. Degan III (Woody), of Memphis, TN.

Serenity Funeral Home (901)379-0861.
Read More