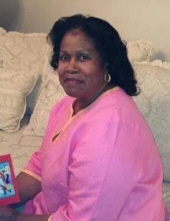 Obituary for Ernestine Lewis
Ernestine Lewis, 72, died on November 13, 2018.

Ernestine S. Lewis was born July 26, 1946 in Holly Springs, Mississippi to the late Moses Stewart and Everline Barksdale Stewart. Ernestine was the oldest of 10 children and was affectionally known to her family as "Puddin". Upon obtaining better employment in TN, her father relocated his family Memphis. It was at New Bethel Missionary Baptist Church (Germantown) where she accepted and professed Jesus Christ as her personal Lord and Savior.

She was educated in the County School System and attended Weaver, Neshoba and Mt. Pisgah Schools. Growing up in the segregated South, her parents raised Ernestine and her siblings to know that if you have the will, God would provide The Way. Never wavering from the lessons taught by her parents and rooted in her faith, succeeding in life was just part of Ernestine's DNA. Working full-time at Sears Roebuck & Co. (43 years), and raising four small children, Ernestine was quite frugal, for which she was often teased. She learned very quickly how to save, budget, spend wisely and became very resourceful. She understood that education was key in providing a better life for her family. She enrolled in night school to learn how to sew. She used this skill to offset the clothing expenses for her children-though she received a discount from Sears. As her children grew older, she attended night classes to learn how to upholster furniture and even established a small clientele. Later she took real estate courses and she and her husband started investing in older homes to renovate and ultimately used them as rental property which she continued even after she retired from Sears.

Ernestine was the picture of class, beauty and grace but she never liked being in the spotlight. That was difficult because she had a naturally commanding presence. Her personality was refreshingly authentic, inspiring, calming, and magnetic. Anyone fortunate enough to know her will attest that she was the same person in public as she was in private. If you asked for her opinion, you should be ready to receive the unfiltered truth because she did not "sugarcoat" it. Not even her children or grandchildren were exempt from her candor. And oddly enough, people were drawn to her because of this very quality. Even her children's friends sought the advice of "Ms. Ernestine". She willingly shared her experiences, knowledge and wisdom with others because she sincerely wanted the best outcomes for people.

She enjoyed reading, learning, travelling and had several hobbies. Unbeknownst to many, Ernestine even wrote poetry. But time spent with her children, grandchildren and siblings by far was her favorite pastime. The individual and collective bond she had with each was very special to her. If you ever walked into her home and she was on the telephone and you heard an outburst of uproarious laughter, you could be sure that she was either talking with one of them or her best friend Artie Hill on the phone. Ernestine LOVED laughing. She had a great sense of humor and the best comebacks of all times some which could leave one speechless. If you were allowed into her coveted circle you had her trust, her loyalty, her support (in any form) and a friend for life.

Tuesday, November 13, Ernestine transitioned to be with the Lord, after years of selflessly pouring and sowing into the lives of so many, with family friend Sammie Taylor, (nicknamed "Lil' Puddin") right by her side to the end. Preceded in death by her husband Robert Lewis, son Willie Smith, Jr., grandson Aubreon Pilgram and brothers Johnny and Lorenzo Stewart, Ernestine leaves to continue her memory her children: Audrey Smith, Gerald Smith and Lisa Tunstall (Jerome); their father and lifetime friend Bishop Willie Smith, Sr.; grandchildren Brittney Smith, Joshua Smith-Cooper and Willie Smith, III; siblings: Katie (Stoney) Burns, Charles (Evelyn) Stewart, Cornelia (Ronald) Green, Darlene (Larry) Perkins, Tracy Stewart, Tony (Alexandria) and Taucha Stewart; and a host of nieces nephews, cousins and friends. Ernestine was the matriarch of our family and so needless to say she will be sorely missed.
 
Serenity Funeral Home, (901)379-0861.
Read More
Previous Events
Visitation
Serenity Funeral Home
1638 Sycamore View Road
Memphis, TN 38134
Service
Serenity Funeral Home
1638 Sycamore View Road
Memphis, TN 38134
Cemetery Details
Location
Memphis Memory Gardens
6444 Raleigh Lagrange Rd
Memphis, TN 38134