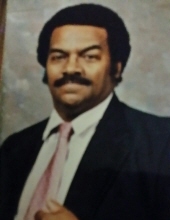 Obituary for James Barksdale
James Barksdale, 80, departed his life on January 10, 2017.

James Barksdale was born on July 22, 1936 to Annie Mae Jones and Shular H. Barksdale. As a young child, his family roots were in Sardis, Mississippi where he was surrounded with love from his grandparents and aunts.

He attended Melrose High School and completed his primary education at the historic and prestigious Palmer Memorial Institute in Sedalia, North Carolina, then later matriculated to UCLA in Los Angeles with continued secondary studies at Memphis State University.
A proud veteran of the United States Armed Forces, he dutifully served his country with specialized assignments in both the United States and Europe (Germany).

In his early career, James was one of the first black correction officers at the Shelby County Penal Farm. However, his most notable social contribution was realized during his professional career as a Psychological Counselor for the well-known "Tall Trees" youth facility for boys in Memphis. During his tenure at Tall Trees he influenced and changed the life path of hundreds of young boys, who might otherwise have succumbed to the adult penal system or worse. After leaving government employment, he pursued other business, sales, and marketing ventures.
James was an avid music lover of all genres – jazz, classical, R&B, blues, pop, and opera. His love for reading was admirable, as literally thousands of books are marked with his highlights and notes  words and books were his closest companion because they broadened his perspective and knowledge of all things.

A spiritual person, not prone to outwardly displays of faith, James accepted Christ by asking the Lord Jesus to come into his heart and he received him as his Lord and savior.
And, as he took his last breath on January 10, 2017, he knew that he was loved, and he welcomed the sweet rest in the bosom of the lord, to join his parents.

He is survived by his children, Angela Barksdale (Anthony), Cynthia Barksdale Ingram (Billy) of Rowlett, TX, Rod Chism, Bradford Alan, Jamel Barksdale (Lisa), and Jaslin Barksdale of Indianapolis; Grandchildren – Tami Sholar Conard (Fred), Jhirika Alexander, Morgan Ingram and Alex Ingram of Rowlett, Texas, Bri Chism, Layla Barksdale, Alexa Barksdale, Jayden Barksdale; Great-grandchildren – Ryan Williams, Timothy Conard, Jhaliya White; and cousins – Curtis, Laverne, and Maria Kittrell.


A Memorial service with be held at 11 a.m. on Tuesday, January 17 at Serenity Funeral Home with inurnment at National Cemetery.


Previous Events
Service
Serenity Funeral Home
1638 Sycamore View Road
Memphis, TN 38134
Cemetery Details
Location
Memphis National Cemetery
3568 Townes Ave.
Memphis, TN 38122