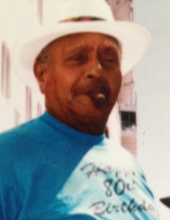 Obituary for LaFerre Harris
LaFerre Haris, 98, died August 25, 2018.

LaFerre Washington Harris was born on February 22, 1920, in Cayce, Mississippi to the parents of Alexander and Dora Harris. He was the youngest of three children. His siblings, Oliver and Mattie, preceded him in death. LaFerre confessed Christ at an early age and was baptized.

At the age of 16, LaFerre married the late Catherine Thomas Harris. To this union seven children were born, LaFerre, Jr., Shirlyne, Alfred, Linda, Wendell, Ronald and Gary. LaFerre, Jr., Shirlyne, Alfred, and Ronald preceded him in death.

LaFerre, later married his current wife, Mavis McGhee Harris. To this union LaVon was born. He also raised his stepson, Keith "Pete" Scruggs.

Among his children are also Lawrence Rhodes, of Memphis, Harold Bowles, Vernita Bowles, and Yemela Bell Gomez, of California.

LaFerre was a giant of a man, with a hearty laugh, a big smile and a genuine love for his family. He had a magnetic and striking personality that drew people to him. He could tell the tallest tales and keep you laughing for hours. Laferre was one of the first Black general contractors in the Memphis area during the 1950's, 60's and early 1970's. He constructed many quality residential and commercial dwellings. LaFerre stood behind the quality and integrity of his workmanship. He enjoyed a good cigar. He had a passion for golf, winning many local golf tournaments. His golf buddies nicknamed him "Sure-Tap," because of his putting accuracy. He and his late son Alfred enjoyed a golf rivalry for over 30 years. Although Alfred was a great golfer himself, but it would take over 20 years before Al would beat his dad in a game of golf.

On August 25, 2018, surrounded by love, at the blessed age of 98, this gentle giant of a man went into a peaceful sleep and departed this life.

A special thanks to David Wright and Lawrence Rhodes for their dedicated caregiving, during his illness while at St. Peter Nursing Home.

He leaves behind to cherish his memories: grandchildren, great grandchildren, nephews, nieces, relatives and friends. LaFerre… A LIFE WELL LIVED!!

Serenity Funeral Home, Tel. (901)379-0861.


Previous Events
Memorial
Serenity Funeral Home
1638 Sycamore View Road
Memphis, TN 38134
Cemetery Details
Location
Serenity Columbarium and Memorial Garden
1662 Sycamore View Rd.
Memphis , TN 38134