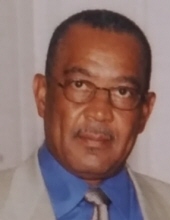 Obituary for Larry Stewart
Larry Stewart, 71, died May 22, 2022.

Larry Stewart, 71, was born on February 12, 1951, to the late Will and Mary E. Stewart, in Blytheville, Arkansas.

Larry began studying as a pre-teen to become one of Jehovah's Witnesses. As he progressed, he began attending meetings, which led to his dedication to Jehovah and water baptism, October 16, 1971.

Larry attended Greer Tech – Chicago and became a master in the trade of auto body work. He loved classic cars and restoring them to glory. Larry was also known to be a "roadrunner", driving for private touring companies and various trucking companies.

Larry is survived by his children: Ramsey Smith (Pat) of Fort Wayne, Kimberly Stewart Gray (JuanDrel) of Memphis, TN, Tierney Stewart Dennis (Leroy) of Destrehan, LA and Tara Lynn Hornbeak of Omaha, NE; 8 grandchildren: Christian Powell, Terrance Young, Kiara Smith, Joshua Powell, Joslin Lewis, Jarrell Gray, Lexi Jo Huls, Ty Huls;
Brothers: Cleatus Stewart, Isaiah Stewart (Barbara), and Levone Stewart; Sisters: Alma Butler, Armor Stahl, Ernestine Williams, Linda (Tyrone) Harris; He was preceded in death by his brother, Will Stewart Jr. and sister Dorothy Marshall.


Serenity Funeral Home, Tel. (901)379-0861.
Read More