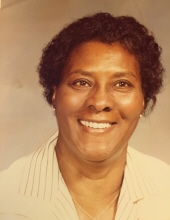 Obituary for Lillie Bell Johnson-Childress
Lillie Bell Johnson-Childress, 95, died September 17, 2016.

Lillie Bell Johnson-Childress passed away September 17, 2016. She was born March 22, 1921 in Idabel, Oklahoma. She married Reverend Billy Johnson in 1940 and in 1944 they moved from Shamrock, Texas, to Artesia, New Mexico, with their son Billy George Johnson. Artesia became the Johnson's home where daughters JoElla and Armandie were born and raised.
Together, Billy and Lillie worked tireless hours sowing seeds of love into their family, community, and members of their church congregation. They built the first Church of God In Christ in Artesia, New Mexico, and Mount Zion C.O.G.I.C. became a place of love and refuge for many. As a member and first lady, Lillie started the Sewing Circle and ran a merchant shop out of her home that provided clothing and housewares for the less fortunate. Lillie worked for the Booker, Yates, Hensley, and Carpenter families for many years as a childcare provider, maid, and cook. Through her excellent service and generous spirit she became a loved and respected member of each of these families. Lillie also worked for the Artesia Public School system for 35 years as a custodian at Park Junior High School. As with Mount Zion, she and Billy worked together at the school where they provided help to and influenced many of the young children they came in contact with.
Lillie and Billy were also involved in politics and many social issues in their community and state. Even after the passing of her beloved Billy in 1982 she remained active in politics working tireless hours on the successful campaigns of their son-in-law, James B. Lewis—of whom she was especially proud—for the office of New Mexico State Treasurer. Throughout her life she had the honor of meeting many dignitaries including President Barack H. Obama.
Eventually, Lillie relocated to Albuquerque where she helped raise and care for her grandchildren, great-grandchildren, and many of the children of her extended family and close friends. Lillie loved caring for children and helping others.
In 1993 Lillie married her second husband, Howard Childress; they remained married until his death in 2000.
Lillie suffered the loss of her youngest child, Armandie Johnson-Lewis, in 2001 and her oldest child, Billy George Johnson, in 2003. She also lost her first grandchild, Dee Dee Johnson. She was devastated by their loss, but she would say it was Jesus' love and comfort that brought her through.
Lillie enjoyed spending time with her sister, Eldonia Minnie Daniels, and reminiscing about growing up in Idabel. They regularly attended noon prayer together and would remain afterwards to visit with the many friends they held in common.
At the time of her death, Lillie was a long-time member of Joy Light C.O.G.I.C. in Albuquerque, New Mexico. Her church and church family were important parts of her life and Lillie held her pastor, Reverend Claude Bell, and his family, in high esteem.
Lillie was a skillful gardener and a gifted quilter. She loved tending her yard and especially loved her apple tree and flower garden; her quilts were beautifully designed and expertly-made.
Lillie is survived by her sister, Eldonia Minnie Daniels; daughter, JoElla Johnson-Redmon; son-in law, James B. Lewis; grandchildren, Lillie Johnson-Morgan, Jomantha Johnson-Peel, Teri Seaton-Reaves, John F. Redmon III, Richard Redmon, Jalicia Johnson, Bill Johnson, William Johnson, Will-Jara Johnson, LaRon Lewis, James B. Lewis, Jr. and Shedra Jones. She is also survived by 43 great-grandchildren and 3 great-great-grandchildren. She has left a legacy of grace, tenacity, perseverance, and strength that can be seen in each of her descendants. She was loved dearly and will be missed profoundly.
Read More
Previous Events
Service
Serenity Funeral Home
1638 Sycamore View Road
Memphis, TN 38134