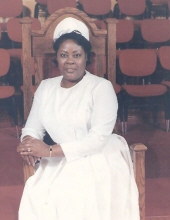 Obituary for Mary Willis
Mary Willis, 76, died September 10, 2018.

Missionary Mary C. Willis was born on July 25, 1942, to the union of Mr. Sammie L. Johnson Sr. and Maggie L. Johnson Pruitt, who preceded her in death. Missionary Willis made her transition September 10th 2018, at 76 years of age.

She was educated in the Memphis City School System and also received a license of cosmetology from Enrii School of Beauty, Memphis. With cosmetology license in hand and a keen entrepreneur spirit after five years of being licensed and building a vast clientele. Mary went on to open her own salon, Chris's Beauty Salon. No one will dispute that Mary loved the beauty industry and enjoyed the friendships and business relationships that were established as a result of the salon.

While working in the beauty industry God called Mary to be one of his disciples which led to her accepting Jesus as her Lord and Savior under the leadership of the late Bishop G. E. Patterson at Holy Temple Church of God In Christ who was at that time (Elder G.E. Patterson). Mary followed the ministry of Elder G, E. Patterson, which would lead to her membership with Bountiful Blessings Temple of Deliverance. Mary dedicated many, tireless hours in the choir, Sunday school, YPWW and being involved in the prayer ministry which led to her finding that her true passion was prayer. A true "Prayer Warrior" she was chosen by at the time Apostle G.E. Patterson to be in charge of the prayer lines as well as helping lead early morning, prayer. Mary didn't just work in the confinement of her church. She worked with and assisted to help run Mission Possible Outreach, a Non-Profit Organization. Where she witnessed, prayed & preached to the lost, leading many to Christ. Known too many as Evangelist Christine Willis throughout the city she preached revivals, got involved in prayer meetings and countless shut-ins. She also worked with the prison ministry, giving her personal testimony resulting in many giving their life to Christ. While fulfilling her call to prayer and evangelism Mary was appointed District Missionary Willis. Where she served and worked faithfully in her position within the district as well as Tennessee 4th Jurisdiction until illness caused her to step away from her position.

Mary was a lady of style and grace, determination who always strived to have, be and do her best, which explains why she was joined in Holy Matrimony to Charles E. Willis on April 15th 1972. One child was born to this union Darius Willis Sr. Mary leaves to celebrate her legacy her beloved husband; children, Javaro Payne, Arnetta (McLawrence) Williams(Columbus GA), Joe Payne, Vitina Willis, Tiga (Stacey) Willis; Darius Willis Sr.(Nashville TN) sisters, Georgia Grandberry, Susizett (Leedale) Colbert, Fannie Johnson, Catherine Pruitt; brothers, Robert Johnson, Curtis McMillian; grandchildren; Roddrick Payne, Lakita Morrow, Ebony Smith (Columbus GA), Nicole Morrow, Cardell Willis, Darius Willis Jr. ( Nashville TN). Lawrence Williams (Columbus GA), Zion Willis(Nashville TN.); fifteen great-grandchildren; and a host of nieces, nephews, cousins, and friends who loved her dearly.

Serenity Funeral Home, Tel. (901)379-0861.


Previous Events
Visitation
Serenity Funeral Home
1638 Sycamore View Road
Memphis, TN 38134
Service
Temple of Deliverance COGIC
369 E. GE Patterson Ave
Memphis, TN
Cemetery Details
Location
Memorial Park Southwoods
5484 Hacks Cross Road
Memphis, TN 38125