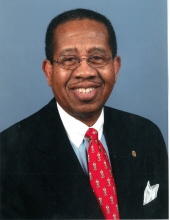 Obituary for Ocie Cleveland Pleasant Jr.
Early Life
Ocie Cleveland Pleasant, Jr. was born July 2, 1942 in Montgomery, AL to the late Ocie Cleveland Pleasant Sr. and Delilah (Mitchell) Pleasant. Known to his friends and family as "OC", he was the second of four children (Steve, Jesse, and Robert). He attended Mobile-Birmingham, AL schools and graduated high school cum laude in 1959. In 1962, OC graduated cum laude from Alabama State University with a B.S. in Secondary Education with concentrations in Political Science and Mathematics. While attending Alabama State University, he met his wife, Barbara King. OC went on to further his education by obtaining a Master of Science in Teaching with a concentration of Mathematics from the University of Memphis in 1968. OC also pursued graduate studies in Mathematics at the University of Indiana, University of Minnesota, University of Wisconsin, and the University of Memphis.

Kappa Alpha Psi Fraternity, Inc.
On November 19, 1960, OC was initiated into the Beta Zeta Chapter of Kappa Alpha Psi Fraternity, Inc. Within the organization, OC held many positions including:

• Keeper of Exchequer
• National Delegate
• Chapter Polemarch (Memphis Alumni Chapter)
• Strategic Planning Committee Member
• Senior Vice Polemarch (South Central Province)
• 20th South Central Polemarch
• National Strategic Planning Committee Member
• National Nominating Committee Member
• Life Member (74-1293)

He was honored by Kappa Alpha Psi Fraternity Inc. with the Elder Watson Diggs Award at the 81st Grand Chapter Meeting.

Professional Career
OC began his career as a math teacher in Alabama. Following his time as a classroom educator, OC became an Employee Relations Counselor and Employee Services Supervisor at Kimberly-Clark Corporation here in Memphis, TN. He returned to teaching at State Technical Institute at Memphis (currently Southwest Technical Community College). Beginning August 1981, OC embarked on his final career, insurance and financial services. OC owned and operated the O.C. Pleasant Insurance Agency, representing Nationwide Insurance Companies.

Community
OC was very active in his community. He was dedicated to serving his community. He held numerous positions throughout the city with a common goal of making the world better for those around him. The most notable positions OC held during his life were:

• Chairman of the Shelby County Election Commission for 24 of the 30 years that he was a member
• Chairman, Board of Directors, Family Home Health Agency
• Chairman, Orange Mound Development Corporation
• Member of Executive Board, Memphis Branch NAACP
• Chairman, Board of Governors, Memphis Health Center
• Life Member, NAACP


Church
OC was not only active in his professional life and his community, he was also very active in his church. He was a member of St. John Catholic Church, Memphis, TN. He held numerous positions in the Catholic Church including:

• Communicant, Lay Minister and Lector, St. John Catholic Church
• Chairman, African American Catholic Ministry Commission
• Member, Board of Directors, St. Peter's Villa Nursing Home, Catholic Diocese of Memphis
• Member, Board of Trustees, Christian Brothers University
• Member, Knights of Columbus


Family was very important to OC. He married his college sweetheart, Barbara (King), August 15, 1964. From this union, two children were born Darryl Pleasant and the late Chandra Pleasant. Their 53 years of marriage were filled with respect and deep love for one another. OC's spirit was a gift to this world. He was loyal to his community, family, and was generous to a fault. He left his earthly life on Sunday, December 9, 2018 surrounded by his family. His legacy will touch generations to come.

OC is survived by his wife, Barbara Pleasant, his son Darryl Pleasant, siblings Steven (Tutka) Pleasant (brother), Jesse (Omer) Youngblood (sister), Robert Pleasant (brother), his grandson Corey Charleston Pleasant, his sister-in-law Shirley (King) Johnson (Leroy), brother-in-law Leslie King Sr. (Euretha), and a host of nieces and nephews.

"But the fruit of the Spirit is love, joy, peace, patience, kindness, gentleness, and self-control."
-Galations 5:22-23

Serenity Funeral Home, Tel. (901)379-0861.
Read More
Previous Events
Visitation
Serenity Funeral Home
1638 Sycamore View Road
Memphis, TN 38134
Service
St. John Catholic Church
2742 Lamar Avenue
Memphis, TN 38114
Cemetery Details
Location
Calvary Cemetery
1663 Elvis Presley Blvd
Memphis, TN