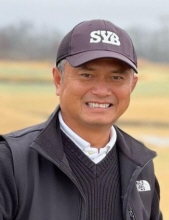 Obituary for Poly S. Phan
Poly Sokmony Nong Phan was born July 25, 1968, in Battambang, the third largest city of Cambodia. He spent his childhood years in Cambodia. In 1980, he relocated to the United States, first Memphis, Tennessee then finally settling in Southaven, Mississippi one year later.
Poly developed an interest in graphic design and its expansive reach and growing opportunities. Determined to pursue his interest, he completed his education in graphic design at Northwest Mississippi Community College in Senatobia, Mississippi. His focus and diligence led him to O'Ryan Group of Memphis, Tennessee as its creative director. From 2013 until he transitioned, he worked there successfully assisting the company to be a great resource of retail store branding and digital printing in the midsouth and greater Memphis area.
Poly was an avid golfer and enjoyed some of his happiest moments when on the course. When not teeing off, Poly could be found fishing, cooking, or singing Karaoke. All hobbies in which he found joy. He was active with the WattDhammaraingsei Memphis Temple. He was a true Renaissance man - someone who appreciated life and exemplified kindness. Although, a man of many experiences and joys, his fondest were those spent with family.
Poly transitioned to the afterlife February 27, 2022, at the age of 51. He is preceded by his father Bunhaw Nong and uncles Chhourn Nong and Vanna Sok. Poly will be deeply missed by his loving family: son, Asa Phan and Amanda Phan; daughter, Piper Phan; stepdaughter, Madison Wilson; stepson, Mason Wilson; granddaughter, Naomi Thompson; siblings Paul Sin Nong, Sophea Nong Lim and Keath Lim, and Mikey Pel; his parents, Sina and Eat Pel; aunt, Ho Hout; and loving fiancé Tina Ly and her dear son, Kenny Huynh.

Serenity Funeral Home, Tel. (901) 379-0861.
Read More
Previous Events
Visitation
Serenity Funeral Home and Cremation Society
1632 Sycamore View Road
Memphis, TN 38134
Service
Serenity Funeral Home and Cremation Society
1632 Sycamore View Road
Memphis, TN 38134