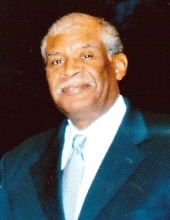 Obituary for Robert Gordon, Jr.
Robert E. Gordon was born in Houlka, MS on July 27, 1938, to the late Essie and Robert J. Gordon. He entered Jehovah God's loving memory on May 5, 2022.

Robert graduated from Houston High School in 1956. He continued his education at Mississippi Industrial College, graduating with a degree in elementary education in 1960. His first teaching job was at East Side High School in Olive Branch, MS. In 1971, Robert began teaching in Horn Lake, MS, where he taught math at both the elementary and middle schools. He remained there until his retirement in 2000. He also operated his own landscaping and lawn care business for more than 40 years.

Growing up in Chickasaw County instilled in Robert a strong work ethic as well as a love of the outdoors. He loved fishing, especially for bream. He even had a special way of eating them: fried with a loaf of white bread, slices of onion and yellow mustard for dipping. He would often spout witticisms such as "It's hard, but it's fair" in reference to hard work, or "Stand aside, you'll take it next time" whenever a child refused to eat whatever was on their plate. Whenever he thought Rowena looked especially nice he would say that she was "Pretty as a speckled pup." After he became ill, those pithy sayings became, "I'm kicking, but not too high" or "I'm doing the best I can with what I've got."

Robert enjoyed having his family around him. He also loved to watch shows about hunting, fishing and cooking. He liked to cook. His go-to dishes were either spaghetti or country-fried potatoes. The spaghetti wasn't great, but the potatoes became legend and were often a requested breakfast item.

Robert began studying the Bible with Jehovah's Witnesses in 1972. The turning point for him was as simple as losing his watch while attending a convention at the Mid South Coliseum in Memphis. He thought that with thousands of people in attendance, there would be no way he would ever see his watch again. Someone told him to check the Lost and Found Department. Sure enough, Robert's watch was there. It was then that he knew that there was something unique about the Witnesses and about what he was learning from the Bible. He was baptized in 1974, and went on to serve in the Fairhaven and Levi congregations. Often using Deuteronomy 30:15, he shared his faith with many, some of whom went on to become baptized Witnesses themselves.

Robert was preceded in death by daughter, Frenchess Burnett, and siblings Mabel Pulliam, Bernice Gordon, David Gordon and Nathaniel Gordon. He is survived by Rowena, his wife of 62 years. He is also survived by children Robyn Gordon, Robert K. Gordon (Mily); grandchildren Ebonye Edwards (James), Gordon Burnett (Neshoba, Kristopher); siblings George Gordon (Mabel), Daniel Gordon, Virginia Burns, Jimmie Dale Hester and Dorothy Gordon.

We look forward to the time when Jesus will fulfill the words: "He will wipe out every tear from their eyes, and death will be no more . . . ." (Revelation 21:4)

Serenity Funeral Home, Tel. (901)379-0861.
Read More
Previous Events
Graveside
Mt. Olive CME Church Cemetery
1919 Getwell Road
Nesbit, MS 38651