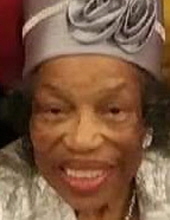 Obituary for Rosa Lee Lewis Means
Rosa Lee Lewis Means, 86, died January 1, 2020.

Rosa Lee Lewis Means was born March 15, 1933 to the late Mr. Anderson Lewis, Jr. and the late Mrs. Alice Webb Lewis. She attended Lester Elementary School and was a 1952 graduate of Booker T. Washington High School. As a young adult, she worked various jobs, including Layaway Clerk at Black and White Stores; Patient Assistant at East Memphis Children's Clinic and Clerk at Union Protective Life Insurance Company. In January 1968 she began a career with the Federal Government, which included serving at the Defense Depot of Memphis and the United States Postal Service.

While at the Defense Depot at Memphis, Rosa graduated from Draughons Business College. After retiring from the United States Postal Service in 1992, Rosa earned a Bachelor of Science Degree in Psychology from Crichton College and a Masters in Christian Education from Jacksonville Theological Seminary. It was during this time that she also earned a Certification as Dean of Christian Education through the National Baptist Convention.

After retirement from the United States Postal Service, Rosa missed the work environment. Armed with her degrees, she began a series of new jobs, which included Director of Christian Education at Pilgrim Rest Baptist Church, under the leadership of the late Reverend Dr. Alfred Dewayne Hill. After leaving Pilgrim Rest, Rosa began serving as secretary to Dr. Charles Patterson, Pastor of the Mt. Zion Baptist Church. She also worked at the Healing Center under Pastors William and Dianne Young. Rosa then worked for five (5) years at the Tennessee Department of Children's Services as a Case Manager and for Memphis City Schools as a Substitute Teacher before retiring for a second time. While working all these various jobs, she was still able to serve thirty six (36) years as Chairperson of Registration for the State of Tennessee Baptist Missionary and Education Congress and twenty two (22) years as a teacher in the National Congress of Christian Education.

Rosa accepted Jesus Christ as her Lord and Savior in May of 1947 at the First Baptist Church Broad Street under the Evangelistic Ministry of the late Reverend L.H. Hamblin and Pasturage of the late Reverend Richard Solomon Rose. She continued her work in the church serving as Sunday School Secretary, teacher, Secretary of the Baptist Training Union, Secretary of the Church and Assistant Choir Director.
She later joined the St Paul Missionary Baptist Church, under the Pastorate of the late Reverend Dr. S. H. Herring, Sr, where she worked untiringly for thirty seven (37) years. She served as Sunday School Superintendent, as well as teacher for the Junior Department. She was a Youth Director, and Assistant Secretary for the church.
Upon the organization of the Greater St. Paul church where she was a Charter Member she continued to serve as Assistant Secretary, Sunday School Superintendent, Choir Director, Trustee and any other duties needed in the Church.

In June, 1999 she joined the Greater Middle Baptist Church, under the Leadership of the late Pastor Benjamin. L. Hooks where she resumed her dedicated service to God's people joining the Mothers Board, the Thursday Night Bible Study, the Jessie Robinson Sunday School Class, and assisting in any way she could in the church.

Rosa served her community as a member of Mission Possible, Sigma Gamma Rho Sorority, and the Federal EEOC Women's Program.

On August 29, 1953, she married Aaron Means Jr., who preceded her in death. She was also preceded in death by her brothers, Joe Lewis and L. C. Lewis,

Rosa leaves to mourn her passing, three children, Judge Deborah Anne Means Henderson,. Renita Delores Means Randolph (Reverend Jerry J.), and Aaron Anthony Means III (Channie D.) and two stepsons, Demetrius Wiggins (Annette) and Danny Williamson.

The Linage continues with the grandchildren, Katrina Nichelle Randolph Dorrough (Oliver), Tamara Tenille. Henderson, Jerry Lekory Randolph (Toneyce), Aarolyn Nicole Means McKinney, Aaricka Anthonese Means Traylor, Aaron Anthony Means IV, Octavia Randolph Walker (James), Thea Artell Herron (Dirvey), Renita James (Anthony), Demetrius Wiggins, Jr., Kirby Wiggins and Ashley Williamson.

Rosa was extremely proud of her twenty (23) great grandchildren. They are: Katrice Randolph, Tarrolyn Barras, Antoinette Parham, Koren Randolph, Justin James, Deuante Cook, Jorian Dodd, Chris Dorrough, Taylan Traylor, Ly'nia Randolph, Demetrius Green, Channie McKinney, Jasmine Walker, Amanda Walker, Makala Walker, Darrian Dorrough, Aarington Traylor, Kaylee Dorrough, Dylon Randolph, Keenan Williamson, Kyrie Wiggins, Anyia Wiggins, and Marcellus Wiggins.

She also leaves to mourn her passing, two (2) sisters, Earlene Fowler (William) and Magnolia Lewis of Gary Indiana, one (1) sister in law, Lois Means Stennis, three (3) nieces, four (4) nephews, and a host of cousins, and friends.

Serenity Funeral Home, Tel. (901) 379-0861.


Previous Events
Visitation
Greater Middle Baptist Church
4982 Knight Arnold Rd,
Memphis, TN 38118
Visitation
Greater Middle Baptist Church
4982 Knight Arnold Rd,
Memphis, TN 38118
Service
Greater Middle Baptist Church
4982 Knight Arnold Rd,
Memphis, TN 38118
Cemetery Details
Location
Elmwood Cemetery
824 S Dudley St