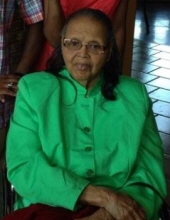 Obituary for Ruth Williams
Ruth Williams, 85, died on December 8, 2016.

Mother Ruth Williams was born on May 1, 1931 in Winnfield, Louisiana to the late Mr. Clyde and Mable Wilson. She was one of eight children.

Mother Ruth Williams was united in marriage to Elder Robert L. Williams in 1947. She shared forty-seven wonderful years of marriage. She was a devoted wife and loving mother to their only child, Jeffery Williams.

Mother Ruth Williams lived her early years in her home state of Louisiana. She later moved to Detroit and received certifications as a Gourmet Chef and Master Cake Decorator. For over 10 years she owned and operated her own catering company, Lemann's Catering, named after her beloved son.

Mother Williams accepted Christ at the early age of 17 and lived wholeheartedly for the Lord until death. Mother Williams loved the Lord and worked in the church as a Pastor's Wife, Missionary, and Chairlady of the Missionary department for many years. Prior to moving from Detroit, Michigan, Mother Williams was a faithful member of St. Mark Church of God in Christ, where Supt Fred Tillman is Pastor. Mother Williams was such a loving, kind, and caring woman.

Mother Williams loved to sing and even when not feeling her best, you could often visit her and hear her singing "Running for Jesus" and "Look where he brought me from." Mother Williams enjoyed helping and ministering to young women. She was always very pleasant and loved everyone she met.

Upon the death of her husband, she moved in with her loving son and daughter-in-law, Jeffery and Juanita Williams, in 1997. After moving with her son, she lived in Memphis, TN and Louisville, KY. Upon moving to Memphis, TN, Mother Williams joined Greater Community Temple Church of God in Christ, where Bishop Brandon B. Porter is pastor. During Mother William's illness when unable to physically attend services, she would yet enjoy watching church services via the internet. Mother Williams often told nurses, doctors, and others about her "Bishop". While living with her son she helped care for the children and would often read bible stories, sing songs, and help with homework. Because of Mother William's support, her grandchildren never spent 1 hour in childcare. She was such a loving and caring grandmother.

Although she had 1 child, she gained a daughter, Juanita Williams, wife of her son. As her health began to fade and for more than 10 years, Juanita would take her to appointments, prepare meals, and often assist with her personal care. Jeffery would often tease about his mom loving Juanita more than himself, but what better person to share mom with. Mother Williams built a bond with Juanita and would call for her opinion and thoughts on procedures and treatments prescribed by her doctors. During nights in the hospital and care facilities she would often call for Juanita's assistance. These memories will be forever cherished and she was ever so thankful for Juanita. Juanita was like the daughter she never had.

Mother Williams Departed this life on Thursday, December 8, 2016 with her son close by. During the closing days of her life she would yet attempt to pray and sing songs with those that visited. Mother William's was such a fighter and never allowed sickness or illness to stop her.
Mother Williams always wanted to share Jesus with others. Mother Williams was not ashamed of the Gospel of Jesus Christ.

She leaves to cherish in her memories: a son, Jeffery Williams, a daughter, Juanita Williams, two grandchildren, Robert Lee Williams II and Kristen Carsey Williams, one sister Annette Wilson of Detroit, MI, and two sister-in-law's, Margie Radford and Gertrude Williams both of Pineville, LA: a host of nieces, nephews, relatives, and friends. She was proceeded in death by both parents, and six other siblings. She also leaves to cherish a special niece, Mary Valentine of Shreveport, LA, close friend, Mary Hollingsworth, of Detroit, Michigan.

The family would like to thank these special people that provided services for Mother Williams, in-home medical care giver, Andrea Andy Mathis, the Staff of WR Community Services and the staff of Poplar Oaks Health and Rehabilitation Center. Mother Williams was ever so thankful for your assistance.
Read More