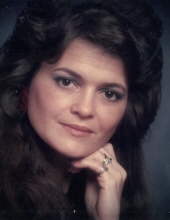 Obituary for Toni Ann Jacobs
Toni Ann Jacobs, age 64, died on January 29, 2019.

Toni Ann Jacobs, 64, died peacefully at her home on January 29th, 2019. She was preceded in death by her mother, Michelle Ann Cook and brother, Michael Blasco. She is survived by her father, Frank Blasco (Patti); sister, Susan Dunlap (Ken); also her loyal companion, Charles Brown of Covington, TN; her son, Robert Brian McCain (Cindy) of Brighton, TN; sons, Donald Glaser, Kevin J. Zent, Mathew J. Zent of Millington, TN; and granddaughters, Cheyenne McCain, Hailey Zent, Lillian Zent, Katherine Zent; grandsons, Kevin Frederick Zent, Michael Zent of Bartlett TN; and her beloved nieces and nephews. She enjoyed reading, was an avid storyteller, and loved dancing.

Serenity Funeral Home (901) 379-0861.
Read More