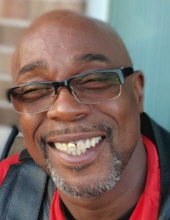 Obituary for Tony Howard Martin
Tony Howard Martin, 53, died November 23, 2022
.Tony Howard "T-Money" Martin was born on December 27, 1968, in Memphis, TN to Louis Martin, Jr. and the late Carol Lynn Martin. He accepted Christ at an early age at Cane Creek MBC and was a God-fearing member of Greater Mt. Calvary MBC, under the leadership of Rev. Dr. Henry K. Ewing.
Tony was a proud graduate of Hamilton High School in 1987 and continued his education at Tennessee College of Applied Technology to become a Master Barber in 2021. He worked under the apprenticeship of Mr. Reginald Travis, House of Styles Hair Salon until he started his home-based and mobile barber services, Money Kutz. Tony worked at the Mid-South Food Bank where he began as a driver and created the rural route program and within the following year, he was promoted to his new position as the Rural Route Coordinator from serving 13 counties within the Tennessee, Mississippi, and Arkansas to 31 counties. He loved helping others and wanted to make more of an impact on the small, deprived counties. He was so proud of the accomplishments that he had made within six months into his career. He was blessed with so many gifts from God as a mechanic of almost any vehicle and/or motorcycle to being an avid motorcyclist which was a passion from childhood. Tony was the President of the Delta Riders MC that his father founded in 1968 and was reformed in April 2021. He also got the opportunity to fulfill his longtime dream to mentor 15 young black men at Trezevant Middle/High School with Balance for Life on November 18th to "Stay on the right track."
He married his junior high sweetheart and love of his life, Brigitte, on June 23, 2017. He always said these were the best days of his life where he had experienced true love and he showed and expressed it in every way.
Tony departed his earthly home on November 23, 2022. He had one brother to precede his death, Darrell Martin, Sr. (Yunna).
Left with his memories: his wife, Brigitte; his father, Louis Martin, Jr. (Fashell); his siblings, Traci Martin Strickland (Dion) of Dallas, TX, Troy Martin (Katina), Louis Martin, III (Renee), Terrance Martin, Sr. (Melody), Paula Karras of Los Angeles, CA, Steven Martin (Coreyion) of New Orleans, LA, Tyrone "Scooter" Martin (Sharetha), Chantrice Adouko (Potco), James Martin: and his extended siblings: John Robinson of Miami, FL, Jackie Springfield (Felix) of Dallas, TX, and Chekita Haynes (Leroy) of Dallas, TX: five daughters; Tiffany Mathis of Montgomery, AL, Tonicci Martin-Eddins (Jacoby), Toni Johnson, Tierra King, Toneka Darling of Mesa, AZ: two bonus daughters, Bree Lyons, and Tyneica "Squirrel" Nance: fourteen grandchildren, and a host of Aunts, Uncles, nieces, nephews, cousins, and friends.
Serenity Funeral Home (901)37-0861
Read More
Previous Events
Visitation
Serenity Funeral Home and Cremation Society
1632 Sycamore View Road
Memphis, TN 38134