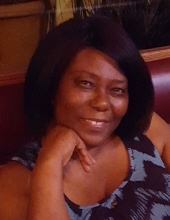 Obituary for Vernon Joyce Reed
REFLECTIONS OF LIFE
Vernon Joyce Ernest Reed
RM2 Vernon Joyce Reed, USN Ret. was born on April 4th, 1950 in Lake Providence, LA. She was born to her parents Robert Ernest (deceased) and Earnestine Ernest (Davis). Joyce was reared by her grandparents Fred and Pearl Fowler and by Marshall and Beatrice Walker (affectionately called "Mama B and Uncle Marshall"), all deceased.

Joyce accepted Christ at an early age and united with Greater Galatians MB Church under the leadership of Rev. Charles Burgs and later joined Patmos Island Community Church under the leadership of Pastor Leonard Perkins.

Joyce joined the United States Army shortly after her graduation from Douglas High School in 1968. She honorably served two years active service in the United States Army, and then transitioned to the Navy Reserves in order to raise her young family and support her husband's career in the United Air Force. Joyce dedicated many years to the Armed Services and loved serving her Country.

In her spare time, Joyce truly loved traveling, cooking, spending time with family and serving in her church and community. She had a kind and welcoming aura about her. Joyce embraced those she met with open arms and an infectious smile. She had a giving spirit, almost to a fault, for which many were recipients of her blessings. As her health deteriorated, she refused to let her illness deter her from enjoying and "living" life her way. Joyce continued to enjoy the activities that brought the most happiness and was always ready and willing to extend her support (spiritual, moral, financial, advisory, motivational) to those that had the privilege of knowing and befriending her.

Joyce was preceded in death by Mama B and Uncle Marshall; father, Robert Ernest; grandparents, Fred and Pearl Fowler; husband, Alexander Reed Sr.; son, Alexander Reed Jr.; daughter, Tiwana Reed and sister, Robin Ernest.

Joyce leaves to cherish her memories -- her mother, Earnestine Davis; four daughters – Vernan "Jeannie" (Major Jacques, USMC Ret.) Rogers of San Diego, CA; Alexia (Chris) Ellis of Murfreesboro, TN; Ashley Williams of Memphis, TN; and Ebonee' Williams of Nashville, TN; one son – SSgt. Robert L. (Martina) Williams III, USMC of Pensacola, FL; the fathers of her children; Randy Brookman of Springfield, IL; and RM1 Robert L. Williams, USN Ret. of Tunica, MS; siblings: Vivian (Otha) Frazier of Racine, WI; Carolyn Ernest of New Orleans, LA,; Robert (LaSandre) Ernest of Harvey, LA; JoAnn (James) Woods of Chicago, IL; and Kathy (Phillip) Hughes of Baker, LA; fourteen grandchildren: Jarrett Rogers, Jessica Rogers, Jazmine Rogers, Jayelon Rogers, Jordynn Rogers and Jacques Rogers Jr., Epiphany Gray, Alex Reed III, Walston Onyx Lewis, Walston Mathew Reed, Cpl. Joshua Amaad Reed, USMC, Joseph Shamar Ellis, Robert L. Williams IV, and La'Mair Williams; two great grandchildren -- Troy Onyx Lewis and Megumi Rose Clark; and her children's Godmother and Sister-In-Love Eva Nell Coleman. She also leaves a host of nieces, nephews, cousins, other relatives and friends to mourn her passing.

Serenity Funeral Home, Tel. (901)379-0861.


Cemetery Details
Location
Memphis National Cemetery
3568 Townes Ave.
Memphis, TN 38122