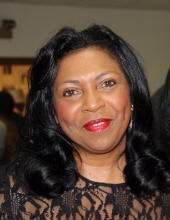 Obituary for Windell Payton Robinson
Windell Manning Payton-Robinson moved through life with amazing grace and quiet fortitude. Most would boast of her incomparable physical beauty. In fact, she could have been labeled with a multitude of descriptors –some of which throughout her life appeared almost in contention with her angelic, gentle disposition for Winnie was indeed a leader….a champion prize fighter…a decision maker and constant caregiver who spent the totality of her life, standing on true Christian faith, high moral principles, and love. She fought passionately on behalf of those whom she cared for – unassuming and stoic. When she was faced with the toughest physical and emotionally challenging battle of her life, she fought with fervor and dignity until her last breath. On July 16, 2016, Winnie departed this life in the physical form without complaint - surrounded by her supportive family and friends.

As a loving, solid village is designed to uplift and mold its villagers to be strong in mind, body and spirit, Winnie's village proved no different. She was born one of nine children to Beola Manning Williford and daughter of Robert Payton, Jr., in Olive Branch, Mississippi on July 23, 1954. Forever her family's beloved "baby girl," Winnie was protected, cherished and doted on by her older siblings. The Manning/Payton family believed that treating people with respect and dignity was the hallmark of decency. This would prove to be a theme in Winnie's life for the duration of her existence. Anyone who met Windell Payton-Robinson felt the warmth of her smile and selflessness that exuded from every pore of her being. She took care of people. That's simply what she always did. Winnie attended East Side High School in Olive Branch, Mississippi, where she graduated in 1972. She enthusiastically competed in numerous pageants winning over audiences with her effervescent personality and amazing dimples. Immensely talented and well rounded, she enjoyed track, dancing and modeling amongst other things. She was full of life and interested in meeting new people and learning new things.

Upon graduation, Winnie knew that one of her missions in life was to serve others. She returned to Olive Branch Elementary; however, this time as a teacher dedicated to serving the needs of children with exceptionalities. In true "Winnie" fashion, she wore several hats during her tenure there, including that of bus driver - safely transporting children to and from school. Winnie, without effort, made a statement wherever God placed her. In her life, she was able to build lasting relationships with her colleagues in every organization for which she worked -including Nike and Schering Plough. She was also a faithful employee at Service Master for 15 years. At Terminix, Winnie helped build a family and treasured her loving "girls." Known affectionately as "take-charge Windell," the ever-loyal Winnie built relationships easily because she often put the needs of others before her own. She was selfless and relentless in her need to be there for others. Her humility was infectious, and those around her, counted on her dependable strength. She never disappointed. Beauty is indeed in the eye of the beholder; and to so many, Windell's beauty was undeniable….an established fact…an opinion that seemed akin to a universal conclusion than some subjective notion. But most importantly, there was her heart – a gigantic, strong, welcoming heart leading her to nurture every life she touched. She didn't wear her faith on her sleeve, she lived by Christ's guiding principles. She always kept her word, and she never complained. She never felt compelled to brag or preach. Windell simply was a living example of God's grace.

Windell was preceded in death by her parents, Beola Williford and Robert Payton, Jr. She leaves to cherish her memory, her beloved children, Christopher (Margaret) David Lee and Kerra (Michael) Delnitra Payton Saine; two grandsons, Miles Edward and Maxwell Erron Saine; five granddaughters, Keirra Hilliard , Alexis Lee, Kenyada Lee, Akia Lee and Maia Emari Saine; her supportive and loving fiancé, Sherron Howard; her surviving brothers and sisters, Charlene Williford, Alton (Emma) Williford, Robert (Johnnie) Williford, William (Brenda) Austin, Curtis Payton, Birdell (Jennifer) Sanders, Deosha (Byron) Dean, Napoleon Jones, Virginia Massey and Bridgett (Milton) Knox; one sister-in-law, Paula Rush Payton; four very special friends who she loved like sisters, Bridie Timbers, Norma Dobbins, Georgia Nelson and Texanna Dotson; six great-grandchildren and a host of family and friends whom she cared for deeply.

Windell trusted in God until the very end with an unbreakable faith. She spent her life serving as an usher and gatekeeper for the Lord, and now she has been greeted at heaven's gates.

Visitation, will be held on Friday, July 22, 2016 5:00-7:00 p.m. at the Mt. Moriah East Baptist Church 1248 Haynes Street, Memphis, TN.

Funeral Services, will be held on Saturday, July 23, 2016 at 12:00 Noon at St. Matthew M.B. Church 1295 Craft Rd., Olive Branch, MS.

Burial at Kyleton Church of Christ Cemetery 1420 Craft Rd. S. Olive Branch, MS.
Read More
Previous Events
Visitation
Mt. Moriah East Baptist Church
1248 Haynes Street
Memphis, TN 38114
Service
St. Matthew M.B. Church
1295 Craft Rd.
Olive Branch, MS 38654
Cemetery Details
Location
Kyleton Church of Christ Cemetery
1420 Craft Rd. S.
Olive Branch, MS 38632